h

PURPOSE
---

Start Italiana magnetostrictive level probes (wired and wireless level probes) are intended for continious measurement of petroleum products levels (fuel and LPG), produced water level and temperature in tanks at petrol stations, tank farms and refineries.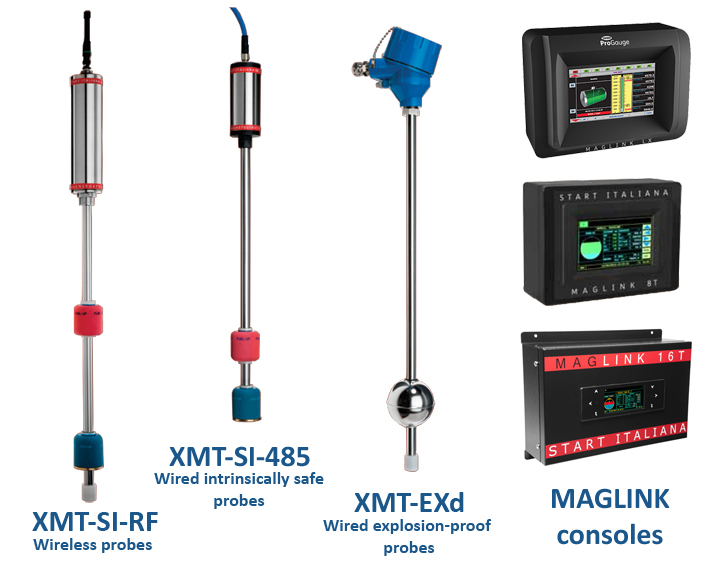 The magnetostrictive level transmitters are based on the principle named Wiedemann effect and enable continuous and highly accurate reading of liquids' level. The lever transmitter consists of a microprocessor based electronic circuit placed inside one aluminium case head and a stainless steel shaft containing a wave guide placed inside the tank.
A high frequency electric impulse is transmitted through the electronic device. In the point of contact with the magnetic field generated by the permanent magnet placed inside the float, a mechanic impulse is generated thanks to the magnetostrictive torsional strain. The mechanic impulse spreads through the wave guide at the speed of sound up to the sensor placed in the measuring head. The time between the transmission of the outgoing impulse and the return impulse exactly defines the position of the float.
TECHNICAL CHARACTERISTICS
---
General Technical Data:
Electronic Microprocessor.
Remote diagnostic, maintenance and configuration.
Easy substitution of the probe without extracting the rod.
Tank connection: standard adjustable gland 2" G-M (others on requests).
Stainless steel rod AISI304.
Enclosure protection IP68. (XMT version)
Certification: ATEX CESI e INERIS – mark
Computation of:

product level in 0,1 mm;
presence of water in 0,1 mm;
average product temperature (up to 10 digital sensors)

Standard measure precision: ± 0,5 mm
Temperature precision among -20+70 °C range: ±0,2 °C
Environmental temperature for explosion proof XMT: from -40 °C to 60 °C

Main Features:
Measurable product
Gasoline, fuel, propane (GPL), water according to the float
Accuracy
± 0,5 mm probe with digital output
± 1 mm probe with analog output
Resolution
0,1 mm
Repeatability
± 0,1 mm probe with digital output
± 0,5 mm probe with analog output
Power supply
+9 V ÷ +30 V DC
Consumption
< 30 mA
Maximum load
500 Ohm
Temperature accuracy
± 0,5°C (for digital output probes only)
Temperature measuring range
-25°C ÷ +130°C (for digital output probes only)
Temperature resolution
±0,0625 °C
Ambient temperature
-40°C ÷ +60°C
Explosion proof EX
II 1/2 GD EEx d IIB T6 ATEX CE,
II 1G Ex ia IIB T4 II 1D Ex tD A20 T135°C CEC 09 ATEX 131
Digital communication interface
RS-485 or wireless

Technical Features:
| | |
| --- | --- |
| Body | O 110 mm |
| Float | O 50 mm (other dimensions on demand) |
| Shaft | O 14/16/17 mm |
| Measurable height | 200 ÷ 120000 mm |
CONNECTION SCHEME EXAMPLE
---
Start Italiana probes can be connected either directly to a PC through an interface converter RS-485/RS-232 and an intrinsically safe power supply unit (in case if used in explosive zones), or through a PTS controller for fuel dispensers and ATG systems for petrol stations. Using a PTS controller additionally allows simulataneous control over a large variety of fuel and LPG dispensers used at petrol stations and storage depots.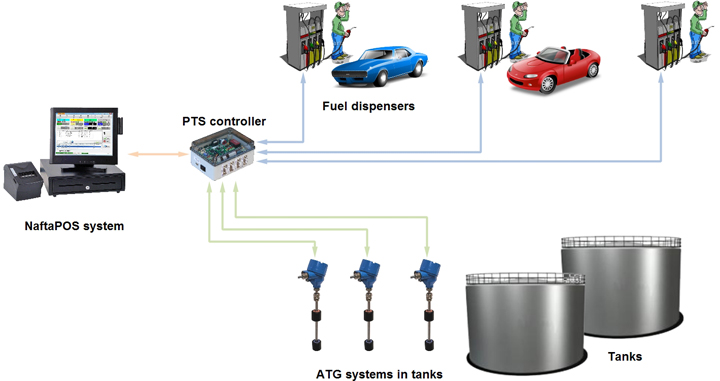 Project Pictures of M/S. Shaheen Freight Service Petroleum Services - CALTEX - Sukkur Pakistan.




CONTACT US FOR FREE SURVEY ACROSS PAKISTAN AND PRODUCT ESTIMATE:


021-35315028 / 021-35884129
info@newage-engineering.com