PURPOSE
---
POS system software NaftaPOS is complex software for petrol stations intended for:
provision of management over technological processes and forecourt equipment (fuel dispensers, ATG systems, price boards, car washes, others)
automated measurement and commercial account at petroleum products
provision of sales of retails products using various payment forms
automated reporting over petrol station operation history during a selected period of time
provision and account of personnel operation of petrol station
provision of discount-bonus loyalty card system for customers
remote monitoring over petrol station operation (optional)
remote reporting over operation of a petrol station network (optional)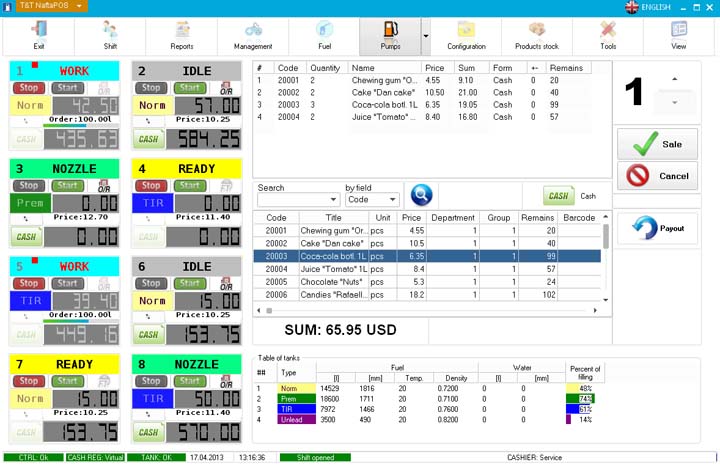 Main Purposes of NaftaPOS Software are:
make petrol station work efficiently and bring maximum profit to its owner
reduce the cost of management over the petrol station
make activity of cashiers and fuel attendants transparent in order to avoid stealing and frauds by personnel of petrol station
make reporting over petrol station operation easy and convenient
provide management over fuel dispensers and ATG systems of various brands and models
provide multiple payment methods and attract more customers with discount-bonus loyalty programs (optional)
make the owner of petrol station concretely master all operations and transactions by remote monitoring of petrol station activity and sales (optional)
provide control over fuel dispensers and ATG systems of various brands and models
Area of application – petrol stations for dispensing of petroleum products, diesel fuel, liquified petroleum gas (LPG), compressed natural gas (CNG), multiproduct fuel petrol stations, petroleum storage depots.
NaftaPOS software can simultaneously control up to 32 fuel dispenser sides (fueling places). Connection of fuel dispensers and ATG systems is made through a PTS controller over fuel dispensers and ATG systems, which supports more than 60 types of of fuel dispensers of various manufacturers (Wayne Dresser Europe, Wayne Dresser Brasil, Gilbarco Veeder Root, Tokheim, Nuovo Pignone, Wayne Pignone, Tatsuno Japan, Tatsuno Europe, Tatsuno Rus, Tokico, Bennett, Petrotec, Salzkotten, FAS, Adast, MM Petro ZAP, Emgaz Dragon, Galileo, Kraus, Welma, PEC (Gallagher), Develco, Logitron, Kalvacha, Safe, Wayne Meksan, Mekser, Mepsan, 2A, Petposan, Petrolmeccanica, Batchen, Email, EuroPump, Baransay, Sanki, Korea EnE, LG EnE, SOMO Petro, HongYang, Blue Sky, GreenField, Falcon, Dong Hwa Prime, EPCO, Slavutich, Shelf, UniCon, UniGaz and others.) and also various types of automatic tank gauge (ATG) systems of various manufactures (ASSYTECH, EBW, ENRAF, FAFNIR, FRANKLIN FUELING, GILBARCO Veeder Root (TLS-2, TLS-300, TLS-350, TLS-450), HECTRONIC, INCON, LABKO, MTS ATG SENSORS, OMNTEC, OPW, PETRO VEND, START ITALIANA, STRUNA, UNIPROBE, VEGA, WINDBELL and others).
CONNECTION OF FORECOURT EQUIPMENT
---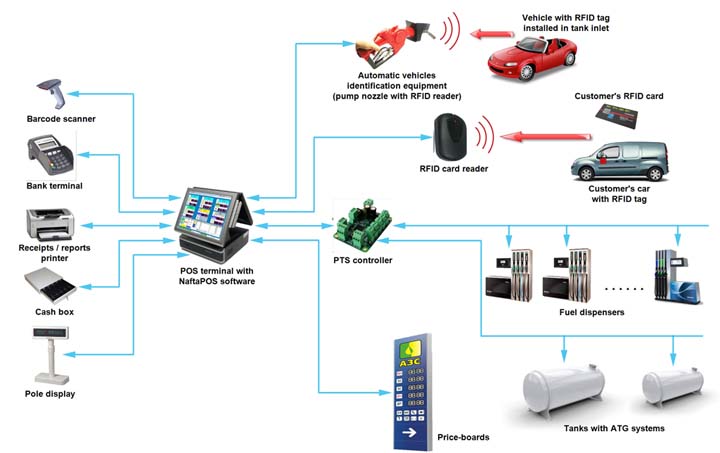 ---
Visualization and supervision of petrol station activity real-time (locally and remotely) - NaftaPOS software provides a easy possibility to monitor all the forecourt equipment operation online and inform about all malfunctions and events.
Convenient operation without any professional training because of intuitive, explicit and clear user interface and operation procedures
Flexible adjustment of petrol station operation - NaftaPOS system supports several ways of operation, which are flexible to set and adjusted to country local traditional specific ways of operation and rules
Easy customization of user interface with selection of a graphical skin, position and size of windows and elements, their details
Flexibility in creation and configuration of templates for printed receipts provides a possibility to make printed receipts of any kinds (text, images, sizes of receipts no matter which printer is used for printing them)
Easy-to-read reporting and graphic statistic makes petrol station work efficient and brings maximum profit to its owner and reduce the cost of petrol station management
Remote data gathering from a petrol station provides a possibility for petrol station owner to supervise petrol station activity everywhere and every moment and make the owner of petrol station a fully-fledged master of all operations and transactions through remote monitoring of petrol station activity and sales
Support of a bonus discount loyalty and payment card system for attracting new customers and keeping existing customers
Supports over 70 communication protocols of fuel dispensers and ATG systems. Application of PTS controller over fuel dispensers and ATG systems gives a possibility to easily connect to any of the supported fuel dispensers. Rich set of interface converters for connection to fuel dispensers provides compatibility with various kinds of input interfaces.
Scalability - NaftaPOS system is developed with taking into account all the modern requirements to systems for automation of petrol stations. It is as relevant to small petrol stations, as it is to big petrol complexes with organization of several working places of cashiers, administrator (Back-Office) of a petrol station, central Head-Office for management and planning and provision of loyalty card system for customers.
Possibility to provide control over same fuel dispensers from several NaftaPOS systems - Several NaftaPOS systems can be installed on the same petrol station and share common equipment and database.
Easy localization to any international language
Trial version of the system is avaiable for customers willing to test the system
Easy updating - NaftaPOS is easy to be updated, when updates are installed, all of system database, software and hardware adjustments are kept. All new updates are available for download to all existing customers. Easy way to back up and restore NaftaPOS controller configuration between updates.
Support by developers - 24 hour support to all customers of NaftaPOS software on any standing issues.
NaftaPOS software leads a database, where it stores all the sales and operations. Using its data it is possible to monitor the petrol station remotely.
NaftaPOS has a web-server application, which allows to have a web portal with following possibilities:
review of NaftaPOS operation online
review of NaftaPOS reports
adding new reports and charts
schedule reports to be automatically delivered via E-mail, FTP, SSH, Windows Share or WebDAV to your business contacts in most popular file formats like HTML, EXCEL, EXCELX, PDF, DOCX, RTF, CSV, TSV, TXT or XML
supervision over users and their actions on the web-portal
Having access to databases of several installed NaftaPOS systems allows to gather into one server all data from the petrol stations network to provide:
formation of reports on operation of all petrol stations in various views for analytics and statistics of petrol stations activity to provide decisions for optimization of petrol stations operation;
online monitoring of each petrol station activity (fuel dispensers operation, remains and parameters of fuel in tanks, current working shift operations) to provide control over personnel at petrol station and security;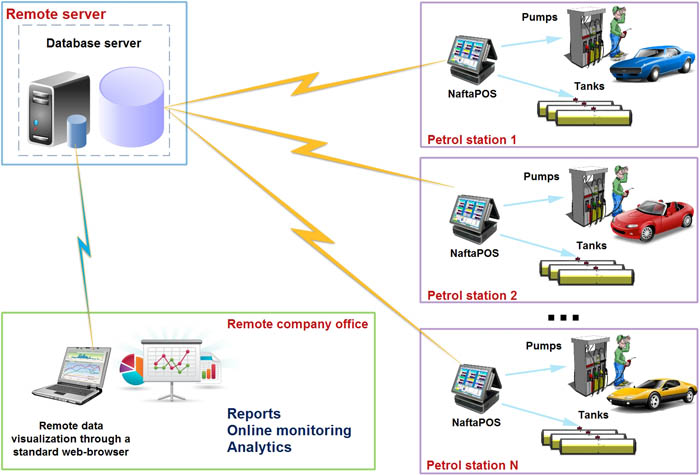 Operation of NaftaPOS web-portal for collection of data from NaftaPOS System
The web-portal serves to provide:
formation of reports on operation of petrol stations in various views for analytics and statistics of petrol stations activity to provide decisions for optimization of petrol stations operation;
online monitoring of each petrol station activity (fuel dispensers operation, remains and parameters of fuel in tanks, current working shift operations) to provide control over personnel at petrol station and security;
Thus using a standard web-browser it is possible to receive reports on operation of NaftaPOS systems at petrol stations and also to monitor their activity online.




CONTACT US FOR FREE SURVEY ACROSS PAKISTAN AND PRODUCT ESTIMATE:

021-35315028 / 021-35884129
info@newage-engineering.com